Margaret Kenny-Levick, Wood Sculptor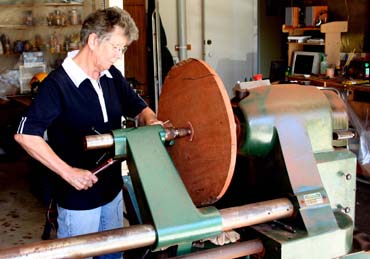 Operating from her workshop in Wallaga Lake, 350 km south of Sydney, Margaret Kenny-Levick sculpts and turns vases, sculptures, bowls and plates from local and imported timbers. She also uses a range of seed pods from palms, leather, metal and fabric. Her work recognises the form and nature of the timber which she has available, often using green timber which, as it dries and seasons, changes its shape. The piece becomes less symmetrical, adding to the charm of the work and reflecting the tree from which it originated.
Margaret obtains her timbers from tree surgeons, National Park officers and councils. She also sources foreign timbers, particularly burls from sustainable Asian and British sources.
Margaret Kenny-Levick has been turning wooden bowls, plates and ornaments for ten years. Her work has evolved from teaching ceramics in Brussels, a philosophy degree in Manchester and a period as youth and community worker in central London.
Margaret started furniture making in the 1980s, completing a City and Guilds course at the London College of Furniture. She branched into wood turning after a few years during which she made a range of "organic" furniture, ranging from yew tables to children's toys and Shaker rocking chairs.
Before moving to Hong Kong at the turn of the millennium Margaret Kenny-Levick had a workshop in Islington, making her the only known professional female wood turner in central London. She believes she had the same status in Hong Kong. Now in Australia Margaret is bringing her skills and experience to produce a new type of turned, carved and decorated wooden art. As well as her work, Margaret teaches private classes that include all of the skills of the wood turning craft.